Testimony: Father charged in son`s 2013 death due to recent confessions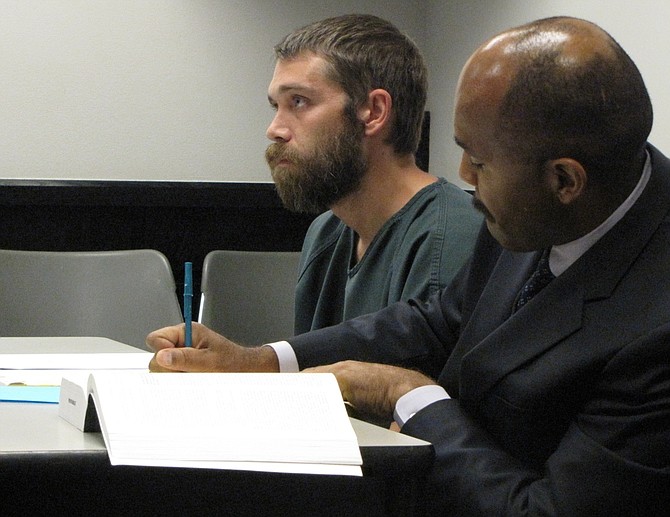 LAWRENCEVILLE — The reason Kurt Vanpool was charged with murder some 18 months after his 2-year-old son died is simple, Gwinnett County police Detective C.J. Flynn testified Thursday — he only recently admitted what likely happened.
#Vanpool, 34, was arrested and charged with felony murder and second-degree cruelty to children on Nov. 6, about 18 months after the April 19, 2013, death of his 2-year-old son, Hunter. Gwinnett County police have known since at least last summer that Hunter Vanpool died of an oxycodone overdose, but had made no arrest because the elder Vanpool, who claimed to have slept with his son that night in the basement of his parents' Hoschton home, never offered any real insight or "any type of reasonable explanation" into the incident.
#Enter Flynn, who was assigned the case last Monday. Within four days, he had spoken with Vanpool and issued warrants for his arrest.
#"He finally admitted to me that (a female friend) had come over the night before (Hunter`s death) and that she had owed him some money," Flynn testified Thursday during a preliminary hearing in Gwinnett County Magistrate Court.
#Vanpool reportedly told Flynn that, instead of money, his friend gave him pills of oxycodone, a prescription painkiller. Vanpool allegedly said he took one but "kept two and hid them in the (basement) apartment," and also conceded that it was possible that he and the friend "left some out or dropped some during the exchange."
#"(He said that) while he fell asleep the child may have been able to get away from him and ingest the oxycodone," Flynn said.
#Investigators are not alleging that Vanpool intentionally gave his child the oxycodone. The felony murder charge is predicated on second-degree cruelty to children, which involves criminal negligence.
#Defense attorney Lawrence Lewis argued that the state`s line of thinking was an overreaction, calling Hunter Vanpool`s death "an accident."
#"I don`t think the state can prove cruelty to children in the second degree," Lewis said. "I think they`re trying to bootstrap, saying, `We have a dead child, how can we charge him with murder?'"
#Magistrate Judge Bob Mitchum did express some reservations about the manner in which the case was charged but bound it over anyway, meaning the case can move on to superior court.
#Vanpool has remained in the Gwinnett County jail since his arrest. Bond was not addressed Thursday, though Lewis has filed a motion asking for a hearing to be scheduled.
#Vanpool`s parents were present at Thursday`s hearing but declined to comment.
Lawrence Lewis is an experienced Criminal Defense Lawyer practicing as Drug Attorney, License Suspension Lawyers, Sex Offense Attorney, Traffic Citation Lawyer, Misdemeanor Offenses Attorneys, Felony Offenses Lawyer, Bond Lawyer, Armed Robber Attorney, dui lawyer, Preliminary Hearing serving Lawrenceville, Gwinnett Country, Metro Atlanta, Alpharetta, Roswell, Marietta, Buford, Fulton County, Canton, Decatur, Norcross, Woodstock, Stone Mountain, Duluth and Cumming .

Lawrenceville Laywer, lawrenceville lawyers, lawrenceville attorney, atlanta attorneys, metro atlanta lawyer, gwinett county lawyers, gwinett country attorney, armed robbery, racisim, Criminal Law, Driving While Intoxicated, Drug Crimes, Felonies, Homicide, Juvenile Law, Misdemeanors, Parole and Probation, Sexual Assault, Traffice Violations, Sexual Offenses, Armed Robbery, Murder, Homicide Lawyer, aggravated assault, kidnapping lawyer, drug case, drug, simple possession, trafficking, burglary, thefts, forgery, deposit account fraud, domestic violence, traffic tickets, simple battery, cruelty to children, temporary protective orders